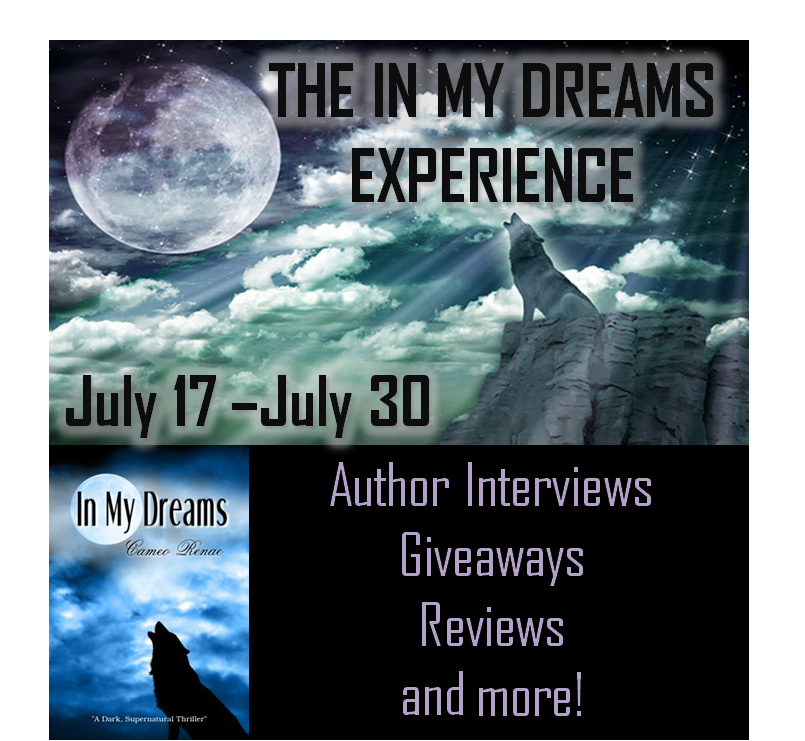 Welcome to the In My Dreams Experience Tour Part 2!
Next up is a guest post from the fabulous
First off… I want to thank Lisa from A Casual Reader's Blog for letting me visit, and for giving me
the great idea for this post.
A Writers Paradise…or Not…
Yes, I live in Maui, Hawaii and have a wonderful backdrop of which to sit, and meditate, and gain inspiration for my novels… But do I use it? Not as much as I'd like. I have three specific places where I write, so I'll start with my least favorite…
Place #1: Is where I'm at now. In a dimly lit room, on a very uncomfortable, and I must say… the ugliest, student-chair ever. It's pale pink, thinly padded, and has some kind of mysterious, circular black smudge on it that cannot be removed. It was plucked from a warehouse… a freebie, which my husband happened to rescue before going to the dump. Thanks honey. It does beat sitting on the floor, though. We haven't gotten around to getting a new one, so here it remains… day after day. One day, I wish to have one of those luxury leather chairs. Black. The ones that you can sink into, and actually feel comfortable in, for any given length of time. I guess that day will come when I sell enough books. Please book fairy… sell, sell, sell!
This is definitely not my favorite place to write, because I do most of my work here during the day: bookings, reservations, etc… In front of me is an extra-large 32" screen. Now this, I like, because I can see the words very clearly. Does it affect my mood? Yes, but mostly in a negative way. There's usually way too much going on around me at this spot that I can't think, and the fact that there's probably way too many EMF's passing through me (enough to give me a sunburn) doesn't help either.
Place #2: This is a great spot. When my husband has sunset weddings to perform, I usually pack up my laptop, and hit the road. In case you were wondering… he is a Hawaiian officiate, and performs nearly 30 weddings per month. Yep… he's busy and in demand! So, anyway… spot #2 is usually at some beach. Most times my hubby will park the car so I can see the beach, but I don't like to write on the beach. I get too distracted. So, I usually stay in the car, in the AC, where it's cool, it's quiet, and there is beautiful scenery all around me… a perfect formula for writing. This is a place where I can usually write a few pages at a time…
The downfall… His wedding ceremonies only last 30 minutes. That's the time frame I have to cram pages in. But I must say… most of my better pages came from this spot, and there is a part in the book that was inspired by one of these beaches. Secret Cove, to be exact, but it's not a secret anymore. It has now become one of the most popular wedding spots!
Place #3: This is my very favorite place. This is the place where most of my writing is done. It is either early in the morning, or late at night, in bed, pillows fluffed behind my back, and laptop resting on my lap. I can normally write 5-10 pages at a time, and can usually squeeze around two hours of un-interrupted writing, if I'm lucky. Because I'm in a relaxed state here, everything seems to flow better.
So those are my writing spots. But no matter what place I'm in… I enjoy every minute of writing. It's like a therapy for me – releasing, relaxing. I just hope that my readers enjoy it as much!
Oh – and before I go… there is a new novel out there called In My Dreams. I hear it's a pretty good read, by a fairly cool author. You might want to check it out!
Thanks Cameo! For my thoughts on In My Dreams, check out my
review
.
And finally, the part you've all been waiting for- THE GIVEAWAY!
I will be giving away a Kindle copy of
In My Dreams
. If you do not have a Kindle, it is easy to get the Kindle app so you can enjoy this great book on your phone, tablet, or computer.
All you have to do is leave a comment telling me your favorite place to spend time. Whether it's writing or just thinking, what place inspires you most? Make sure you leave your email address so I can contact you!
This contest will run from July 22nd to August 7th. A winner will be picked on August 8th by random.org. The winner will have 48 hours to respond or a new winner will be picked. Don't forget to visit all the rest of the stops on the tour! Thanks for stopping by, and good luck!
In My Dreams
Experience Tour Schedule:
July 17: Review @
Books Ahoy
July 18: Author Interview @
The Fable Faerie
July 19: Author Interview & Giveaway @
The Subtle Chronicler
July 20: Guest Post & Review @
Cup of Tea Reviews
July 21: Author Interview & Giveaway @
Bookish
July 22: Guest Post, Review, & Giveaway @ A Casual Reader's Blog
July 23: Review @
The Book Addict
July 24: Review & Giveaway @
Enchantedbooks
July 25: Guest Post @
Letters Inside Out
July 26: Author Interview & Giveaway @
Darlene's Book Nook
July 27: Review @
Books for the Insomniac
July 28: Guest Post, Review, & Giveaway @
I'm A Book Shark
July 29: Author Interview, Review, & Giveaway @
StephLikesBooks
July 30: Guest Post, Review, & Giveaway @
Much Loved Books