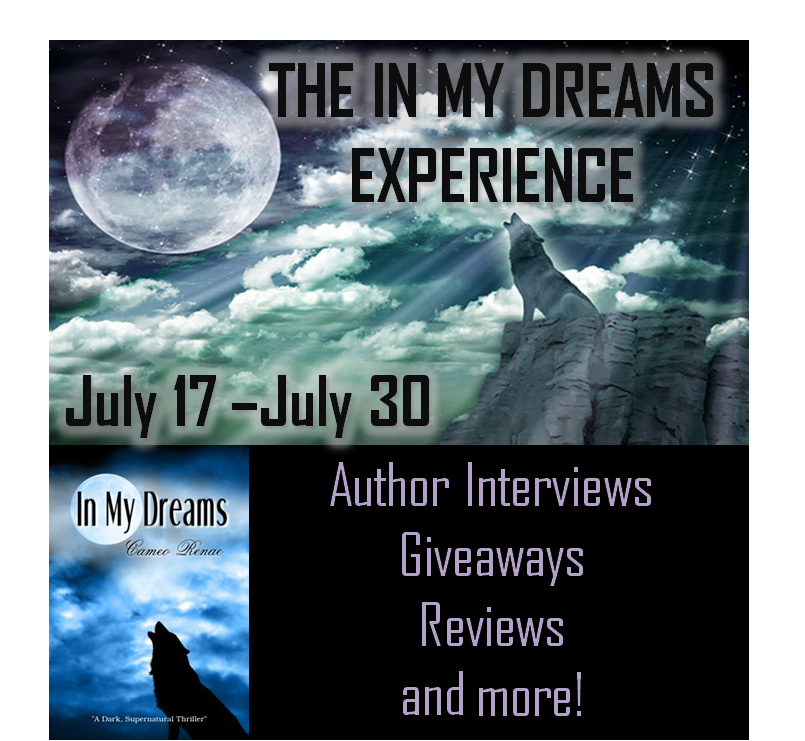 Welcome to the In My Dreams Experience Tour!
I have two posts for this tour.
First up, my review of the book!
| | | |
| --- | --- | --- |
| Title: | | In My Dreams |
| Author: | | Cameo Renae |
| Publisher: | | Createspace |
| Pub. Date: | | 04/28/2011 |
| ISBN: | | 1461083990 (ISBN13: 9781461083993) |
| Pages: | | 226 |
It was happening again. The dreams. The nightmares. It was something seventeen year-old Elizabeth "Lizzy" Hayes thought she'd outgrown; dreams that would come true; detailed premonitions of how people would die. This time she dreams about her boyfriend, Michael Young, and soon discovers that he's been found... dead.

Michael hasn't crossed over because he was murdered, and now his murderer is coming for Lizzy. His spirit won't rest until she is safe, and as a newbie spirit, the easiest way for him to make contact is through Lizzy's dreams. When she dreams, it's as if he hasn't died.
Lizzy must learn to pull on her inner strength to survive horrifying events. Meanwhile, in the spirit world, Michael learns everything he can about his supernatural gifts to help. But will it be enough to save her?
(Summary and cover via Goodreads)
**************************************************
Lizzy has dreams that seem more like premonitions some times. So when she has some bad dreams involving her boyfriend Michael, she begins to worry. Her worries are soon justified when Michael's parents call to tell Lizzy that he has passed away. Now Lizzy's life has been turned upside-down, and Lizzy has to try and make sense of it all. Her dreams are her one place of comfort though, as she gets to communicate with Michael there. She soon learns the truth surrounding his death and that she is in danger. What follows is an exciting adventure that crosses both real life and Lizzy's dream world. At its heart though is a sweet romance and proof that true love will overcome any obstacles.
I really enjoyed this book. I found that the author has a beautiful sense of phrasing. The story flowed so well. I was immediately drawn into the book. One thing I really appreciated was that the romance was able to be sweet without being too cloying. I enjoy romance, but I think sometimes it can overcome the other aspects of the plot. I felt that didn't happen in this case though. Michael and Lizzy were a great pair, and I was cheering for them. This book is a super fast read, and I really wanted to read it all in one sitting. There was a lot of action, but I never felt like it was too rushed. Overall, I think this is a great read for anyone who loves romance and paranormal books.
Book provided for review.